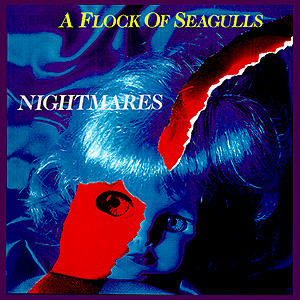 "Nightmares"
Jive T 33
Available formats: 12" Single (UK)
Track List -
Nightmares
The Last Flight Of Yuri Gagarin
Rosenmontag
Notes -
Interestingly, the "Nightmares" 12 Single sleeve lists "The Last Flight of Yuri Gagarin" and "Rosenmontag" as being on Side 2 of the disc, but the former was actually pressed on Side 1. The sleeve, consequently, was released with obscuring black stickers over the "Side 1" and "Side 2" appelations.
The single was re-released shortly thereafter with a corrected sleve.
The doll on the cover is seen in the "Nightmares" video.
"Nightmares" probably (but not definitely) received its North American radio debut on FM radio staion WLIR's Sunday night program "Off the Boat," when the track was played while still only available as a vinyl import.
The two b-sides reveal the often-overlooked experimental side of A Flock of Seagulls.
Yuri Alexeyevich Gagarin (pronounced Guh-GAYR-in) was a Russian cosmonaut and the first man in space. He orbited the earth in April 1961, a humilating blow to the U.S. spaceflight team which at the time was in heated competition with its communist counterparts. His "last flight" took place on March 27, 1968, when the UTI MiG-15 (an experimental jet he was piloting) crashed. He was 34 years old. The Apollo 15 astronauts put a plaque on the moon naming all of the men who'd died in the space race. Gagarin was honored among them.
In 2001, the band Ozma released an album strangely titled "The Doubble Donkey Disc." It featured tracks called "The Flight of Yuri Gagarin" and "The Landing of Yuri Gagarin," although it is unknown if they were inspired by AFOS' "Last Flight."
"Rosenmontag" (German for "Rose Monday") is a festival which takes place in Cologne, Germany in the days leading up to Lent. Rosenmontag is the Monday prior to Ash Wednesday. It is likely that the band learned about this Catholic holiday while in Germany during the recording of "Listen." Coincidentally, it is also the title of a 1930 film directed by Hans Steinhoff.
Slightly edited versions of "The Last Flight of Yuri Gagarin" and "Rosenmontag" appeared on the original cassette and CD pressings of "Listen."
---
"Nightmares"
JD 1 9061-SA
Available formats: 12" Single (US Promo)
Track List -
Nightmares
(It's Not Me) Talking
Information on this page provided by Rachel Livingston, Christopher Watson and Claude Flowers.
---
Next entry | Previous entry | Home | Discography | Send comment
Last updated Saturday, January 27, 2007 9:04 AM