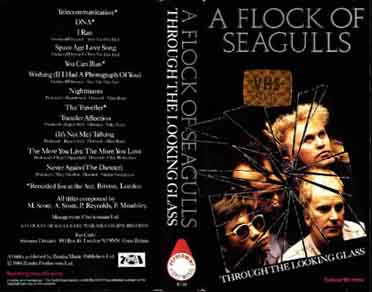 "Through The Looking Glass"

Track List -
Telecommunication*
DNA*
I Ran
Space Age Love Song
You Can Run*
Wishing If I had a Photograph of You
Nightmares
The Traveller*
Transfer Affection
(It's Not Me) Talking
The More You Live, The More You Love
Never Again (The Dancer)
Notes -
The video collection comes complete with introductions to the twelve songs done by the band that were taken from an interview done in 1984 while Paul was still in the band.
The four songs marked with an asterisk are from a 1983 live performance of the band at the Brixton Acadamy. A more complete recording of the live show surfaced during the 1990s that contains over an hour's worth of music.
Through the Looking Glass was only ever officially released on VHS.
Pirated DVD copies being sold on the internet without permission during the 1990s and early 2000s came complete with videos for "Who's That Girl," "Rainfall," and the 12" mix of "Heartbeat Like a Drum."
Even though this is the most comprehensive video collection released of the band's PVs, a video compilation that came out during the mid-1990s featured four that are not found on this compilation, which included not only the "Rainfall" video, but also a video for "Magic" and two different ones for "Burnin' Up."
To this day no official collection contains the promotional videos for the Dream Come True album.
When asked of the band in recent times, members have mentioned that they are still open to the idea of doing promotional videos if the opportunity arose.
---
Previous entry> | Next entry | Home | Discography | Send comment
Last updated
Information on this page provided by Holly Anderson and the person who scanned their video.
---
Home | Discography | Send comment
Last updated Sunday, May 23, 1999 1:15:55 AM pst.