INTERVIEW - Bill Molyneaux - TEAM OF A FLOCK OF SEAGULLS AND MIKE SCORE - 02.2001

Paul Fiction< Hi! Bill, When have you known Mike Score?

I met Mike back in late of 83 and took over the fan club in 1988

PF< Your work on "A Flock of Seagulls" or other bands?

I have toured with A Flock of Seagulls and many times on these tours we would have bands like: The Tubes, Modern English, The Cars, Missing Persons. So over the years I have met many other band members first hand.

PF< What is your favorite "A Flock of Seagulls" or Mike Score song?

Mike Scores fav song changes from time to time but Space Age love songs is one of his top 5.

PF< Best show? Worst show?

Best show Dec 15th 2000 Mohegan Sun was fantastic show. Worst Show was Elmira, NY 1995 my Birthday party. Was a great show just did not have a good turn out here in the country of Upstate NY.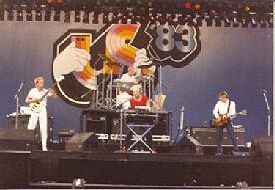 PF< Have you news about Mike Score and the rest of band?
They are going to have a new web site ready in a few months. Also a new CD With a new version of I Ran called I Ran 2000.
PF< And you? What do you do now?
I work for a major candy company full time and help Mike Score out on the side.
PF< Your future projects?
Work on releasing all the Flock of seagulls B sides on CD. I have done it on tape but yet on CD.
PF< What do you think of new musical movements (techno, dance, trip-hop...)?
I live in the 80s Savage Garden is very good!!!
PF< What is your Best New Wave band in New Wave XG website?
A FLOCK OF SEAGULLS?
PF< Your apreciation of New Wave XG?
THIS WEBSITE IS VERY GOOD!!!
PF< Thank you very much Bill...and good luck!
BILL MOLYNEAUX HAVE WORKED FOR MIKE SCORE FOR OVER 15 YEARS...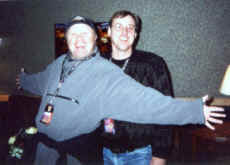 Original Web Location This copy exists on the AFOS website for safekeeping. Please visit New-Wave XG!