Hello Everyone and Welcome
If you've checked out the web page or read the last newsletter, you were aware of the fact that Bill was phasing himself out of the fan club. He is still in contact with me though for any questions I might have for him and has forwarded to me all the information I need to run the club. Currently, his email address is no longer active and he doesn't have the time anymore to answer snail mail sent to the P0 box so as of this newsletter please send all inquiries to me. As president of the club I will do my best to answer all questions and to keep info as up to date as possible.
---
Dues
The dues will still be only $5 a year payable by either check, money order, or stamps and due at the beginning of the year. The newsletter will be issued quarterly for a total of 4 issues a year. If you have received this letter you are considered paid up until 1998 and those of you who join up later in the year will receive the back issues that you have missed for the year joined.



Offers for Members Only
Only those who have joined the fan club and are current on dues are eligible for these offers. Bill had at one time offered to the fans a cassette that contained b-sides and re-mixes of Flock music and also video tapes of concerts and videos. As of right now, I am offering the cassette again. It contains songs such as 'Effects of the Sun', various club mixes, and 2 songs from Mike's previous band Tontrix. In order to receive a copy, please send in one blank 90+ minute tape and 2 stamps for return postage. Please send no money!! Due to copyright laws I cannot accept money for these tapes. This is why I will only be offering these to members only. You can see how this would get out of hand. I plan on making the video tapes in the future, just as soon as I purchase another VCR, so if you are interested in these drop me a line. I will not be able to make copies in PAL format though, I'm sorry.
Savant has Moved!!!!
Savant has changed locations! All numbers were transferred to the new office (which is still located in Florida), but the 1-800# is having some problems. If you can't get through to place an order please send your order to me and I will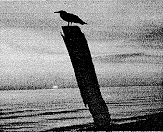 ((Hey!! Where did Savant go???)
make sure Mike receives it. Also, as of now Savant doesn't have a permanent mailing address so if you need anything sent to Savant or Mike just also send these to me and I will forward them on to Mike. As soon as I get an address from Mike I will pass it on.