Available Recordings
Recently I tried to place some orders for "Listen" and "Story of A Young Heart" for some fans and have been banging my head against a lot of walls. Apparently these two are becoming just as rare and hard to get on cd as "Dream Come True" is. I'm still not giving up on locating them, so if you need any help in finding them please contact me and I'll see what I can do.

There are also two new cd's floating around out there and they are entitled "Wishing" and "The Best of A Flock of Seagulls".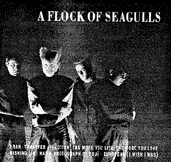 Wishing (above) is released through Disky Communications and is now available through HMV, Virgin, and Tower Records according to Flock fan Robert Hanna. This cd includes the full moon mix of "The More You Live, The More You Love", but is still incorrectly labeled as "The Story of A Young Heart".

The second cd "The Best of A Flock of Seagulls" is a re-release cd by Tring International. As pointed out by Robert Hanna, on this remake the final track now correctly reads "The More You Live, The More You Love" instead of "The Story of

A Young Heart". The cd cover (below) now includes a thumbnail portrait of them hanging on the wall beneath a seagull.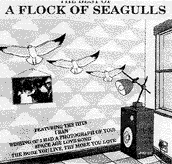 Fans Comments and Questions
Dave Cohen asked if the Flock had ever recorded any "John Peel Sessions" and if they ever did any live recordings between 1984-86. The answer is yes to both of them. According to Mike, the Flock did a peel session around 1985 for BBC. They also did a live recording in 1984 or 1985 for BBC.

Greg Welch wrote in and said WCCO Radio from Minneapolis, MN played the intro to "I Ran" between innings dunng the MN Twins baseball games from April thru June. He said it was ironic considering that the official U.S. fan club for the Flock used to be located in MN during the Arista/Jive years.

Last but not least is my comment on something ironic and weird. I don't know how many of you are familiar with the techno dance band The Prodigy, but the singer/dancer Keith Flint has his hair done up an awfully lot like Mike's used to be. In the video "Breathe", his hair really looks a lot like the old Flock do if you ask me.